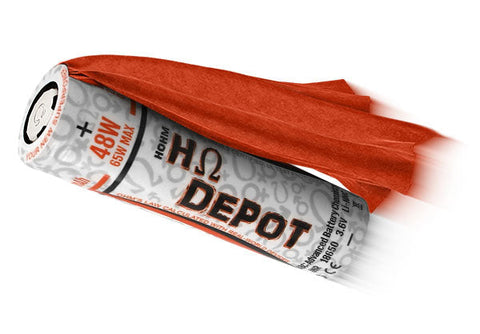 HohmTech Hohm Depot 3000mAh 18650 battery
HohmTech Hohm Depot 3000mAh 18650 battery

YOUR NEW SUPER POWER!!!!

Features and Specifications:
- 3005mAh | 16.8A CDR | 22.5A @ 80c cut-off
- Can be charged at a tested/proven 3.60A rating with minimal impact to degradation
- Amperage delivery at sustained voltages ensures powering relevant loads
- Recalibrated chemistry formula comprised of DSP compounds
- Progressive amperage-to-capacity and capacity-to-weight
- EPTC (Enhanced Positive Thermal Coefficient): Reduction in Thermal Runaway potential
- Equipped with the UPS sealing compounds as an extended assurance of proper operation and performance
- DSP (Dual Stripping Process) formula and selection of raw chemistry achieves a greater cycle life than any previous Hohm Tech cell
- 2nd Gen Cathode Tag integration to promote reduction in internal resistance
- NEW slurry stir process enables greater consistency and minimizes cell-to-cell variation


We pre-charge our batteries for you so you don't have to wait to use them!
Warning: Never short out the positive and negative terminals - never store a loose battery in your pocket or purse without protecting the ends from short circuits
Use only high quality battery chargers
Charge only with battery chargers that are made for Li-Ion batteries
Never leave charging batteries unattended
Never completely discharge Li-Ion batteries to below 2. 5V
Do not expose to heat
Never charge a Li-Ion battery over 4. 25V
Store at approximately 3. 6V - 3. 7V
Due to safer battery chemistry in IMR type batteries (than ICR), they are unprotected.
Discharging to below 2. 5v can shorten the life of the battery or render it useless.