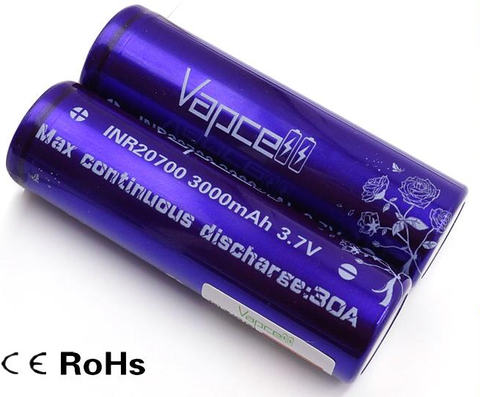 Vapcell INR20700 Batteries
Vapcell INR20700 Batteries
Rewrapped 5 prong iJoy 20700 batteries!
Buy two and receive a free battery case.
Features and Specifications:
Nominal Voltage: 3.7V
Nominal Capacity: 3000mah
Maximum current capacity: 30A
Type: Li-Ion
Model Number: inr20700
Size: 20700
Warning: Never short out the positive and negative terminals - never store a loose battery in your pocket or purse without protecting the ends from short circuits
Use only high quality battery chargers
Charge only with battery chargers that are made for Li-Ion batteries
Never leave charging batteries unattended
Never completely discharge Li-Ion batteries to below 2. 5V
Do not expose to heat
Never charge a Li-Ion battery over 4. 25V
Store at approximately 3. 6V - 3. 7V
Due to safer battery chemistry in IMR type batteries (than ICR), they are unprotected.
Discharging to below 2. 5v can shorten the life of the battery or render it useless.
' 
' 
We pre-charge our batteries for you so you don't have to wait to use them!